Super Sonico Introduces Curvier Pal, Super Pochaco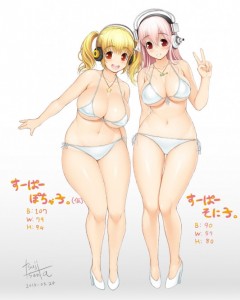 We all know that Super Sonico (すーぱーそに子) has a well-endowed… Wait scratch that. Rather, over-endowed, body that is a tad bit too big yet again looks good on her. Now, what happens if there exists a bigger version of Sonico? Enter Super Pochaco.
Super Pochaco is as big as she could get. While Sonico's statistics are measured at B-90 W-57 H-87, Pochaco is a whopping B-107 W-79 H-94! The crazy measurements Pochaco owns is immortalized forever in two (!) different figures – the swimsuit version and a cowgirl version. Both are currently unpainted. This big and beautiful blonde girl also comes with her own signature headphones.
Super Sonico creator, Santa Tsuji, designed Super Pochaco and is currently working with Taito for the production of the figures. Other than that, some Super Pochaco item designs and prototypes are out including a dakimakura and a 3D mouse pad. Of course, the designs are labeled as NSFW (Not Safe For Work) so viewer discretion is highly advised.
The Super Pochaco figures are planned for release this April. Are you or are you not getting them for your own collection? Has Super Pochaco charmed your socks off or you'd still stick to Sonico?