Studio Ghibli In The News: A Totoro Sofa, Fancy Pens And The English Cast From Up On Poppy Hill Revealed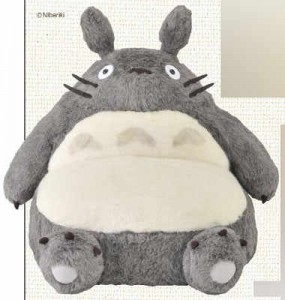 Studio Ghibli (株式会社スタジオジブリ) has weaved many webs of anime fantasies that children and adults gladly step into. Asgard brings you Studio Ghibli news that puts fantasy into reality starting off with the Totoro sofa.
My Neighbor Totoro (となりのトトロ) is just one of the many famous anime titles from Japan that made its permanent mark on the world. The massive, cuddly form of Totoro (トトロ) makes every fan dream of wanting to sleep on his tummy the way the Mei Kusakabe (草壁 メイ) did. AmiAmi.com has offered a single person sofa bearing the exact, adorable shape of the forest spirit. This sofa, brought to you by Ensky, is up for pre-orders for only 21,990 JPY (277 USD) and will be shipped sometime around late December.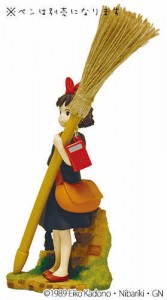 Special pens inspired by Studio Ghibli are offered by Movic. Together with Benelic, the companies came up with a series of Sailor Pens with three different functions: a mechanical pencil, a red-inked ballpoint and a black-inked ballpoint. These pens are stored in smooth, black boxes and come in My Neighbor Totoro (となりのトトロ), Porco Rosso (紅の豚) and Laputa: Castle in the Sky (天空の城ラピュタ). Available for pre-orders in Ghibli goods stores and Movic's online shop Chikyu-ya, these pens are priced at 3864 JPY (50 USD). An adorable Kiki's Delivery Service (魔女の宅急便) pen, complete with pen stand, will be offered soon.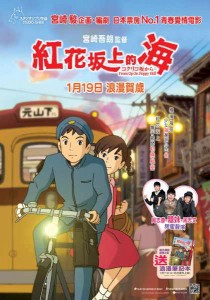 From up on Poppy Hill (コクリコ坂から) finally gets an English version thanks to GKIDS and the cast is made up of famous actors and actresses, including Jaime Lee Curtis from Freaky Friday, Gillian Anderson from X-Files, Christina Hendricks from Mad Men, Chris Noth from Sex in the City and Emily Osment from Hannah Montana. From up on Poppy Hill is a story about Umi Matsuzaki (松崎 海) and Shun Kazama (風間 俊), young high school lovers whose lives are twisted in conflict.