Street Fighter's Famous Wrestler Gets Accurate Woolly Figure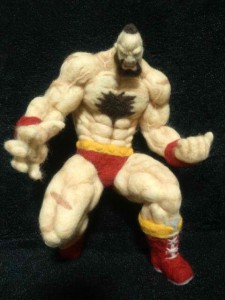 If you're looking for a hobby, give needle felting a try! Who knows, you just might turn out to be next Kosuke Ueda. Kosuke Ueda is your average Japanese who is a needle felt aficionado. His love and dedication for his hobby takes on a whole new level as he adds Street Fighter's (ストリートファイター) Russian Red Cyclone (赤きサイクロン) to his completed works.
What would probably take your breath away with this Ueda creation is that the woolly Zangief (ザンギエフ) is highly detailed – including the signature Zangief war face which Ueda considered not to hard to make after his experience making Armstrong (アームストロング) from Fullmetal Alchemist (鋼の錬金術師). According to Ueda, the inspiration of creating Zangief came while he was working on his other needle felt project, Sailor Moon (セーラームーン). The reason for it is that Ueda wanted to make something muscular as opposed to Sailor Moon's slim figure. The complete photo of Zangief made headlines on Twitter and is only 100 retweets away from reaching 10,000!
If you've seen Wreck-It Ralph, it would be highly impossible for you not to miss spotting Zangief. Hailing from Russia, Zangief is their country's living national hero who always makes it a point to bring glory to Mother Russia. Zangief is close combat wrestler whose signature move is the Final Atomic Buster (ファイナルアトミックバスター).
Check out more photos of this woolly Zangief on Ueda's blog here. Don't forget to follow him on Twitter!