Late Apple Co-Founder Steve Jobs Goes Manga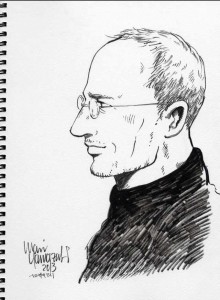 Steve Jobs is, and forever will be, a prominent face in the world of technology. The Father of Digital Revolution who brought us the iPod, iPhone and other Apple gadgets we now all come to know and love will be immortalized in the pages of a manga drawn by none other than manga artist, Mari Yamazaki (ヤマザキ マリ).
Yamazaki, 45, is well known for her hit comedy manga Thermae Romae (テルマエ・ロマエ). The Chicago-based, Tokyo-born Mangaka has raked several awards thanks to her creation of Thermae Romae, including the Short Story Award in the 14th Osamu Tezuka Cultural Prizes as well as the Manga Taisho award. The complete success of Thermae Romae lead to an anime adaptation and even a live action version of the manga.
The announcement of making a manga biography about Steve Jobs was first seen and heard on Studio Park Kara Konnichiwa, a talk show on NHK which featured Yamazaki. Another Yamazaki announcement made is the end of Thermae Romae on the April issue of Monthly Comic Beam magazine which will be released on March 12.
The manga biography of Steve Jobs will be published in the April issue of josei magazine, Kiss (キス). It will be on stands on March 25.
For more Mari Yamazaki news and updates, head on down to her personal blogsite at Exblog.Jp.