Steamy Engaged To The Unidentified OVA Preview Released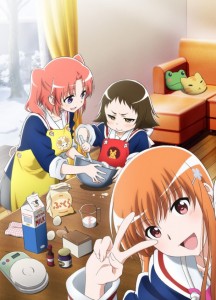 If you've been following the anime version of Engaged to the Unidentified (未確認で進行形) for awhile now and it has made a fan out of you, here's good news for you. An OVA of the anime series is currently in the works and a 3-minute preview has been released on March 2 via the TOHO animation Youtube channel.
The OVA goes with a hot spring theme and will be included in a DVD/Blu-Ray scheduled for release on March 19, 2014 in Japan. Engaged to the Unidentified follows the life of Kobeni Yonomori (夜ノ森 小紅). On her sixteenth birthday, Kobeni meets Hakuya Mitsumine (三峰 白夜), a young boy who is engaged to her as arranged by her late grandfather. Together with his sister Mashiro (三峰 真白), Hakuya moves in the Yonomori household. To Kobeni's intense surprise, the Mitsumines are more than what they appear to be. The ongoing series first made its debut on April 22, 2009 as a four-panel manga created by Cherry Arai and was first published in Ichijinsha (株式会社一迅社)'s 4-Koma Palette magazine.
The OVA won't be the only special feature in the DVD/Blu-Ray set – a trial listening video entitled Message! (めっせーじ!) is also included. March 19 will also be the release date of the Engaged to the Unidentified character song audio CDs starring Kobeni Yonomori, Mashiro Mitsumine and Benio Yonomori (夜ノ森 紅緒). Check out the videos below and head on down to the official Mikakunin website for more information.