Special Must Haves In The News, Vol. 5: Digicams, Stuffed Toys And Origami Sets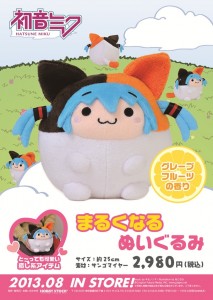 It's another episode of Asgard Anime's Special Must Haves In the News because we just can't resist but share these bits of news with everyone. First up we have a stuffed Hatsune Miku (初音ミク) doll in her ultra adorable Maruku Naru (まるくなる) form. The doll, based on the illustration made by Nekomura for Xenon-P's Maruku Naru song, is brought to you by a Japanese online shop called Hobby Shop. The Maruku Miku stands at 250mm tall and is infused with a grapefruit fragrance. Hobby Shop is accepting pre-orders with a special discount too. Get this round little Miku for only 2,235 JPY (22.44 USD). If you still haven't watched the Maruku Naru music video yet, knock yourself out with a cuteness overload below. Don't forget to grab your own Maruku Miku here!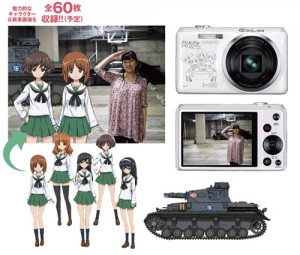 Another anime must-have worth mentioning is the special Girls und Panzer (ガールズ&パンツァー) digital camera. The Girls und Panzer camera is a collaboration formed with Casio Computer Co. LTD, whose well known digital camera product is the EXILIM EX-ZR20. The GIRLS und PANZER x EXILIM digital camera is produced by Degimonostation. Although the design is bound to change without further notice, the camera's design is laser engraved with the Girls und Panzer girls. What makes this camera special is the Dynamic Photo function which allows you to include the girls in your photos! How cool is that? The GIRLS und PANZER x EXILIM camera is priced at 31,800 JPY (319.44 USD) complete with a digital camera case. Add 500 JPY (5.02 USD) for shipment fees. This camera will only be sold at Catchbon.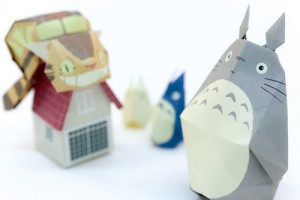 Last but definitely not the least is the My Neighbor Totoro (となりのトトロ) origami set. Brought to you by Ensky, the Totoro origami set will be released on April 22, 2013 and will contain a number of paper sets including a large, medium and dwarf Totoros, the Catbus and of course, the Kusakabe family house. The set also includes paper printed with Totoro all over it as well as other origami spirits. The Totoro origami set is sold for only 840 JPY (8.44 USD). Visit the Ensky shop to place your order! My Neighbor Totoro celebrated its 25th anniversary last April 16.