Special Must Haves In The News, Vol. 4: J-Fashion, Anime Style Part 2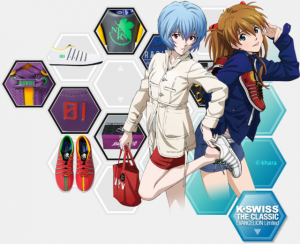 Asgard Anime brings you another helping of Special Must Haves In The News and it's another Anime invasion on J-Fashion! Neon Genesis Evangelion (新世紀エヴァンゲリオン) and Tiger and Bunny (タイガー&バニー) are leading the J-Fashion invasion while a special Mega Man (ロックマン) offering will entice you to cosplay and take a nap at the same time.
If you're the type of otaku who would consider exercise as a herculean task, maybe this can change your mind. Radio EVA brand has formed a partnership with American footwear company, K-Swiss, to come up with Evangelion-inspired shoes. The K-Swiss The Classic shoes are now available in the shades of the known Eva models from Eva 00 to Eva 02. The Eva kicks are available starting now until the 10th of May. Each pair will cost 10290 JPY (103 USD) and it comes with a special post card, too. Grab a pair and you're ready to run!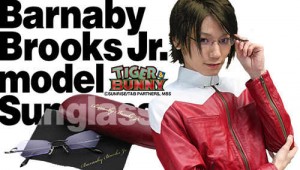 Whether it's for cosplay or for just adding something cool to your daily look, getting this Barnaby Brooks, Jr. (バーナビー・ブルックスJr.) sunglasses won't let you down. You won't get this pair anywhere except through Premium Bandai which they offered for pre-orders. The sunglasses are accurately modeled after the pair of glasses that Barnaby Brooks, Jr. wears in the anime. The lenses are made from polycarbonate and is surrounded by a black, metal frame. A pair of these sunglasse come with a special case and a cleaning cloth, all at a price of 19,000 JPY (191.05 USD). Get your Barnaby Brooks, Jr. glasses now before they're gone!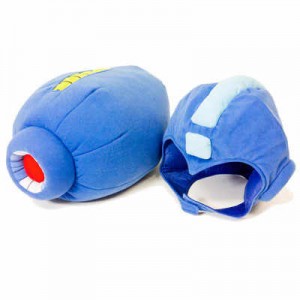 Here's another fashionable contribution that doubles as nap time gear! E-Capcom has offered a Mega Man-inspired buster and helmet plush pair. When cosplay conventions are still far away, just strap this pair on, lay your head on the soft plush buster and sleep away! Each pair costs 6,091 JPY (61 USD) and is already available for pre-order.