Shonen Jump Puts Up Special Kuroko's Basketball Wallpapers Up For Grabs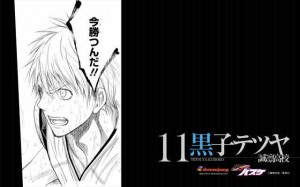 Come hell or high water, Kuroko's Basketball (黒子のバスケ) is still a complete success and is fighting its way up to fame. With the TV anime slotted for a second season, Shonen Jump threw a bash for that with 32 different character wallpapers!
Written and illustrated by Tadatoshi Fujimaki, Kuroko's Basketball began as a manga and was first published in December 2008 thanks to Weekly Shonen Jump. The series is currently ongoing and has 20 volumes to date. Not long after, an anime adaptation was made. The first episode was aired on April 7, 2012 and ended on September 23, 2012 with a total of 25 episodes. Kuroko's Basketball is about a high school basketball team aiming to become the best in Japan. The "Generation of Miracles Team" is made up of five talented members with a special sixth member. This sixth member is Tetsuya Kuroko, who, together with Kagami, are taking Seirin to become the best team there is.
The second season of Kuroko's Basketball isn't the only thing Shonen Jump is celebrating; the manga's 21st volume will be released next month with a fully colored, 19-page chapter. The wallpaper web celebration will start this weekend and will be featuring exclusive Tadatoshi Fujimaki art. This marks as a celebration for the franchise's complete success over the years.
What are you waiting for? Head on down to Shonenjump.com to get your special Kuroko's Basketball wallpaper fix!