SoniPro 3DS Game Preview Already Out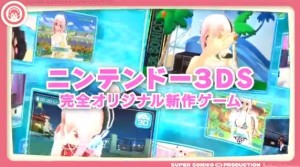 She has her own music albums, anime, manga, collectible figures and now a brand new video game! Nitroplus's (株式会社ニトロプラス) very own mascot, Super Sonico (すーぱーそに子), is rising to the top with Super Sonico in Production or SoniPro (ソニプロ).
The preview has been uploaded on March 27 via Youtube thanks to Imageepoch (イメージエポックPR). The video which runs for almost 2 minutes features scenes from the game with the song Start Up by Super Sonico's band First Astronomical Velocity (第一宇宙速度). In SoniPro, you take the reigns as Super Sonico's producer and help her get to her dream of becoming a top idol which will eventually lead her to perform in the Summer Tokyo Bay Festival. The game is produced by Imageepoch with Nitroplus supervising the game. Musical contributions are made by Georide (ジオライド).
The pink-haired and uber busty Super Sonico is the official mascot of Nitroplus. She first appeared in the 2006 Nitroplus concert, Nitro Super Sonico. Super Sonico is more than just a singer. This 18-year-old goes to college and often works as a gravure idol. She is never seen without her signature headphones.
Available for the Nintendo 3DS platform, SoniPro is scheduled for release in Japan on May 29 for a price of 5,980 JPY (58.17 USD). More SoniPro preview videos are available on their official Youtube channel.
http://youtu.be/Ue-ZMMIR1S4