Slam Dunk Creator Gets Interviewed By CNN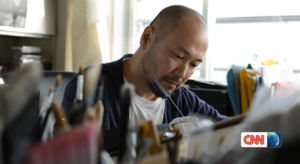 "If you have lively characters, they will make the story themselves."
Takehiko Inoue
One of the most loved anime and manga franchise that hit the 90's was Slam Dunk (スラムダンク). Behind that great title, as well as for Vagabond and Real, is a man called Takehiko Inoue (井上雄彦). Leading news channel CNN interviewed Inoue in their Human to Hero series. In the interview, Inoue shared how he creates his characters, his inspiration for Slam Dunk and the important matters he considers in his work.
As quoted from the CNN website that featured Inoue, "This week Human to Hero meets Japanese Manga artist Takehiko Inoue. He is best-known for his basketball comic "Slam Dunk," which has sold in excess of 100 million copies. He is regarded as one of the bestselling Manga artists of all time. In one of his television interviews, Human to Hero follows Inoue as he searches for inspiration in the streets of Tokyo and picks up his paintbrushes back in the studio to begin work on his latest project."
Don't miss out on this special Human to Hero interview on TV. Human To Hero airs every Thursday at 12:00 GMT, both in News Stream and on Connect the World. Check out CNN's Human To Hero to find out more on this exclusive interview!