Shingeki No Kyojin Sand Sculpture Towers Over Beach In Japan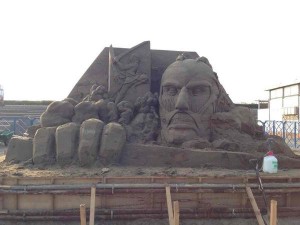 Shingeki no Kyojin (進撃の巨人) celebrates the release of the 11th volume of their manga with a massive Colossal Titan (超大型巨人) sand sculpture.
The sand sculpture was created by Japanese sand sculptor, Hosaka Toshihiko (保坂俊彦). Armed with 80 tons of sand, sand sculpting tools and an immense amount of talent, Toshihiko set out for Enoshima Higashihama beach and came up with a 5.4m x 4.2m x 3m replica of the Colossal Titan conquering a wall complete with attacking soldier on the side.
The Colossal Titan is perhaps the official mascot of the Shingeki no Kyojin franchise with the fabulous Kyojin-Kun (巨人くん) leading the way for the Shingeki no Kyojin promotions. In both the anime and manga, The Colossal Titan stands at an estimate of 60 meters tall, making it the largest Titan in existence. Without warning, this Titan appears out of thin air in just a lightning strike and makes sudden disappearances with steam surrounding it. The Colossal Titan breaks down the protective Walls that humanity hides behind with his unparalleled strength. With its huge size, you may think that the Colossal Titan lacks the brains to go with its body but that's where you're wrong. The Colossal Titan is smart and to prove it is its annihilation of the cannons situated on top of the walls so the other Titans can pass through the breached wall nearly unharmed. If you've been following the manga, have you figure out the mystery of this gargantuan Titan?
Hosaka Toshihiko is a wonderfully talented sculptor. Check out his other works through his website. If you have no idea who Kyojin-Kun is, check out the video below and be captivated by his charms.