Shingeki no Kyojin In The News: A Bicycle Jersey, A Nendo Teaser And Levi's Dust War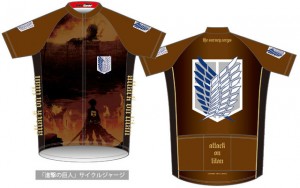 Shingeki no Kyojin (進撃の巨人) has got to be one of the best anime/manga franchise that 2013 has to offer. Read up on the latest Titan (巨人) tidbits here on Shingeki no Kyojin In the News!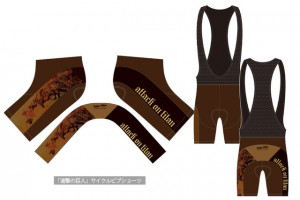 If you want the feel the breeze and pretend that you're running after a Titan (or a Titan is running after you), here's something for you. An Attack on Titan cycling jersey has been released thanks to Good Smile Company. The designs are inspired by the Scouting Legion uniforms and are made from 100% polyester. Priced at 13,440 JPY (136.89 USD), the jerseys come in 6 different sizes (S, M, L, XL, XXL and XXXL) so everyone can enjoy their own Scouting Legion gear. Cycling bib shorts are also available for 14,280 JPY and with the same size ranges as with the cycling jersey. The bib shorts are made out of 87% polyester and 13% spandex. The Attack on Titan cycling gear will be available on October 2013.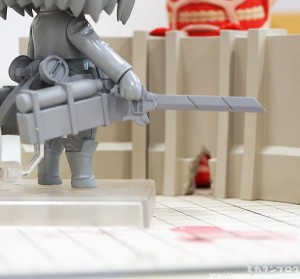 Another Shingeki offering from Good Smile Company is still yet to come out but the sneak peak is enough to tell you what it is about. The Good Smile Company will make its way to Summer WonFes and not without scores and scores of goodies, including this Shingeki no Kyojin Nendoroid. Who do you think is the unpainted nendo prototype? Head on down to Summer WonFes to find out! The Good Smile Company will also be selling stickers based on the emblems.
If there's one thing Lance Corporal Levi (リヴァイ) hates worse than Titans, it's none other than dust. Levi, whose name is also romanized as Rivaille, is perhaps the perfect poster boy for cleanliness and that makes Harry Potter's Aunt Petunia second best. While the internet is littered with memes featuring a masked Levi, here's a video for you Levi fans to enjoy entitled Attack on Dust – a parody of the anime's opening credits but features Levi's war against dust and grime as seen on episode 15.