Shingeki no Kyojin In The News, Vol. 5: Sasha Chips, An Ordinary Titan Life And A Mikasa Nendoroid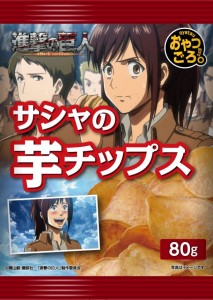 Asgard Anime brings you a heaping fifth serving of Shingeki no Kyojin (進撃の巨人) In the News and what better way to kick of the fifth volume than with the Shingeki no Kyojin-inspired items. This is the second Shingeki no Kyojin collaboration that Japanese convenience store, Lawson (株式会社ローソン), has made with the manga/anime franchise and the items up are a definite must-have! If you're a fan of the series, you may already know that Sasha Braus (サシャ・ブラウス) is the one and only poster child for food in the series. Lawson has come up with the Sasha Potato Chips for only 105 JPY (1.07 USD) per bag as well as Survey Corps Ration Butter Cookies with the same price as the potato chips. Lawson also has a contest that allows customers to win a signed poster by the voice actors of the Shingeki no Kyojin anime.
How would you like to see the Shingeki no Kyojin cast in a different light? Japanese fan animator Shitoce has revamped the My Ordinary Life (日常) opening credits featuring the Survey Corps and the rest of the Shingeki no Kyojin cast. Although the video is yet to be finished, this is a fresh and adorable take on Shingeki no Kyojin. The video reportedly took the creator the whole summer to finish this fan project and all the hard work has really paid off! Check out the video below and tell us what you think about this cool tribute!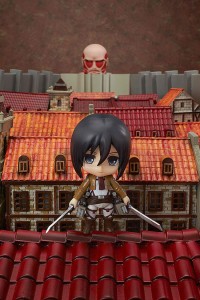 Recently, the Good Smile Company has launched their Shingeki no Kyojin line of Nendoroids featuring the Colossal Titan (超大型巨人). Now you can start building your own Walls (ウォール) with the Mikasa Ackerman (ミカサ・アッカーマン) Nendoroid! To be released on January 2014, Mikasa in her chibi Nendo form still looks adorable even if she has three serious facial expressions. This fully poseable little Nendoroid is priced at 4,000 JPY (40.74 USD) and comes with a set of blades streaking with Titan blood, 3D Maneuver Gear as well as a stand that allows you to let Mikasa hover in midair. Grab your own scarf-totting, Titan-slaying, Eren-worrying little Mikasa soon!