Shingeki no Kyojin In The News, Vol. 2: Food, Fan Art And Ending Theme News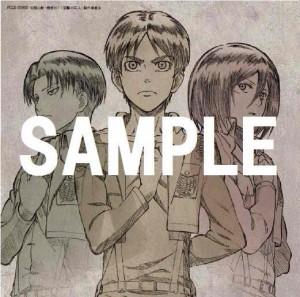 We're pretty sure that you just can't get enough of Shingeki no Kyojin (進撃の巨人) so Asgard Anime brings you its second serving of Shingeki no Kyojin In the News with volume 2 hot off the racks!
The second ending theme of the anime series is up and ready for release on August 21 and just like the opening theme, the ending single also comes with special Shingeki no Kyojin covers! Japanese alternative rock band, Cinema Staff, has provided the Shingeki ending theme with their song entitled Great Escape. The single also comes with four different cover arts, each representing a company (Tsutaya Records, Tower Records and Animate) while the fourth cover is for the other participating stores. If you still haven't heard of The Great Escape, check out the video below and support both the Shingeki franchise and Cinema Staff by getting this single legally! So how would these look when all four singles are put together? Check out the photo right below the video.
http://youtu.be/dwy_Fpvi6Es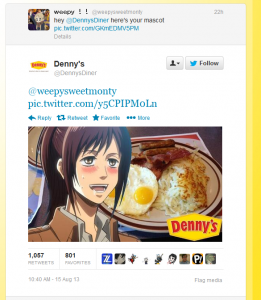 Denny's Diner is probably one of those outspoken restaurant chains the world has even seen. After hacking their own Twitter account and even go as far as using the NSA for their Twitter advertisement, Denny's now shows their love for Shingeki no Kyojin. The latest Denny's Twitter ad has featured the perpetually hungry Sasha Braus (サシャ・ブラウス) after an anime fan tweeted a Sasha Braus art on their account. Follow Denny's on Twitter and watch as Shingeki no Kyojin might do a collaboration with them and Sasha just might become their official poster girl!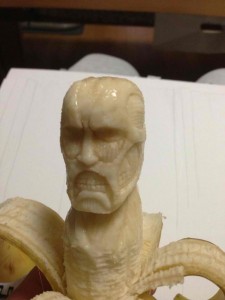 If Denny's still hasn't made you hungry, this one just might do the trick. Japanese artist Keisuke Yamada has sculpted the Colossal Titan (超大型巨人) out of a banana! Keisuke Yamada is famed for his banana art and has done plenty of other banana art including Darth Vader, a dragon, and even Homer and Marge Simpson! This is one awesome form of fan art! Now, would you even dare to eat this Titan banana?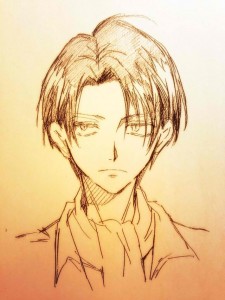 Another Shingeki fan art is brought to you by talented manga Arina Tanemura (種村 有菜) who is widely known for her contribution to the shojo manga world with titles such as Full Moon O Sagashite (満月をさがして) and her latest offering, 31☆Ai Dream (31☆アイドリーム). Tanemura enjoys working on tributes and has added Shingeki no Kyojin to her list! Tanemura has sketched most of the recurring characters on the anime, namely Eren Jaeger (エレン・イェーガー), Mikasa Ackerman (ミカサ・アッカーマン ), Armin Arlert (アルミン・アルレルト), and even Lance Corporal Levi (リヴァイ). Check out Tanemura's Twitter profile to check all of her SnK fan art as well as other sketches made by her. Don't forget to follow her on Twitter!