Shick Turns Shingeki No Kyojin 3DMGs Into Razors For New Campaign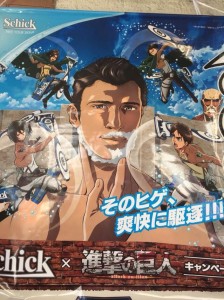 Need a smooth, clean shave? Then let the Shingeki no Kyojin's (進撃の巨人) Survey Corps (調査兵団) do it for you! In the latest Schick campaign in Japan, the famous brand of razors has worked together with Shingeki no Kyojin to promote their razors. The poster, which can be seen on the right, showing four famous members of the Survey Corps attacking the beard and 'stache of a now clean shaven man with their Schick inspired Three Dimensional Maneuver Gear (立体機動装置). Not too far away is the famous face of the Shingeki no Kyojin franchise, the Colossal Titan (超大型巨人) watching the little scene.
Shick has previously had tie-in promotions with other anime titles such as Neon Genesis Evangelion (新世紀エヴァンゲリオン) which they did for a couple of times already. For some reason, Shick has an affinity for apocalyptic-themed anime.
Shingeki no Kyojin is the worldwide anime and manga phenomenon brought to you by Hajime Isayama (諫山 創). The highly awaited second season of the anime is rumored to be released on 2015 despite the April's Fool prank pulled by Otaku House.
The Shingeki no Kyojin x Shick campaign has a teaser site in store for fans so visit the site by clicking here. Something big is coming your way on June 9, 2014 as shown on the teaser site so stay tuned for more info!