Sheryl Nome Celebrates Birthday With Jewelry And Accessories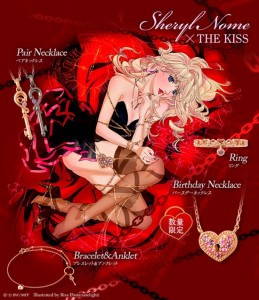 On November 23, 2013, Macross Frontier's (マクロスF (フロンティア)) very own Galactic Fairy Sheryl Nome (シェリル・ノーム) celebrated her birthday with a bang! Japan-based jewelry company, THE KISS, has released Sheryl Nome-inspired jewelry that will add a touch of pop star icon to your everyday fashion. Sheryl Nome's accessories goes by the theme of "Secret" and comes in the form of a pair necklace, a ring, a birthday necklace and bracelet & anklet pair. The most expensive pieces of the Sheryl Nome birthday jewelry are the Secret Heart Necklace and the Secret Love Pair Necklace which is priced at 25,200 JPY (248.72 USD) and 23,100 JPY (227.99 USD) respectively. If you want to have a bit of the collection but you're on a tight budget, then the Love Chain Ring and the Love Limitation Bracelet & Anklet is for you! The ring sells for 9,240 JPY (91.19 USD) while the bracelet & anklet pair go for 13,600 JPY (134.23 USD). Read up more about it on the official THE KISS website and place your order now!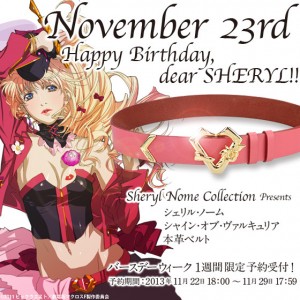 THE KISS isn't the only company to celebrate Sheryl Nome's birthday: Premium Bandai is also in the celebrations with their Sheryl Nome Shine of Valkyrja belt. The belt, which is a replica of the very same belt worn by Sheryl, can be yours for only 20,790 JPY (205.19 USD). Pre-orders are currently entertained at the official Premium Bandai website so be sure not to miss out on this one because it will only be available for 1 week!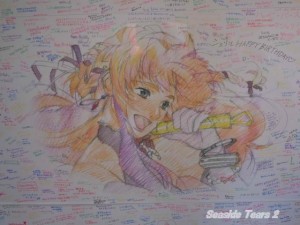 Sheryl Nome's widespread fame is also enjoyed by the fans who celebrated her birthday with a message board! Bokes Akihabara Hobby Heaven, a hobby shop located in Akihabara, Japan, has set up a message board in which Sheryl Nome fans have delightedly scribbled their birthday messages for their beloved Galactic Fairy. During that time, brand new Macross Frontier figures have been released with the latest Banpresto Ichiban Kuji Premium figures starring not only Sheryl Nome but Ranka Lee (ランカ・リー ) as well.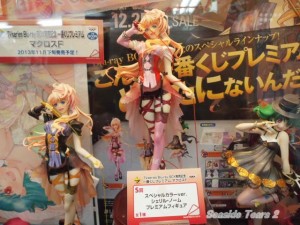 Image credits go to THE KISS, Premium Bandai and Seaside Tears 2