Sailor Moon S.H Figuarts Takes Over Akihabara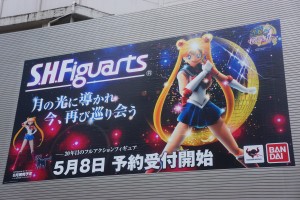 I will punish you in the name of the Moon!
To all the kids who grew up watching Sailor Moon (美少女戦士セーラームーン) and who have now become young adults, get ready to become a child again as your favorite heroine is making a 2013 comeback! Promotions have come slowly but surely this year for Sailor Moon, starting off with her appearance as Tokyo ViVi's magazine cover. Now, Bandai has released a Sailor Moon S.H. Figuarts figure and the advertisement is all over Akihabara!
The banners feature the Sailor Moon figure in two different poses, both of which are very familiar to die hard Sailor Moon fans. Standing at 14cm tall, it's quite easy to guess that this special Sailor Moon Figuarts beauty is highly poseable; you can let Sailor Moon do her pre-fight poses or even her special moves! Did we mention that she also comes with her black cat companion, Luna (ルナ)? This nostalgia-inducing Sailor Moon S.H. Figuart is priced at 4410 JPY (45 USD) and will be released on August this year.
Excited for the 2013 Sailor Moon return? We share the same sentiments! Check out the video clip below and don't you dare miss out on this special Sailor Moon figure! Visit the Sailor Moon Figuarts website for more details.
http://youtu.be/qYP8o362S3M