Sailor Moon Takes On Tokyo ViVi Cover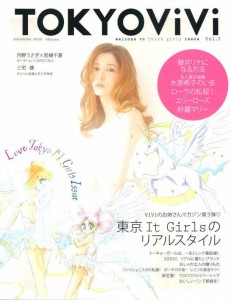 Guess who became the latest cover girl for Japanese fashion magazine, Tokyo ViVi? The world famous magical girl with the blonde, twin-tailed odango to match, Sailor Moon (セーラームーン), shared the cover page of Tokyo ViVi's third volume with Japanese model Lena Fujii (藤井リナ).
Sailor Moon and Fujii aren't the only ones that appeared on the latest ViVi's cover; Sailor Chibi Moon (セーラーちびムーン) holds on to Sailor Moon's hand while Helios (エリオス), who is taking the form of Pegasus (ペガサス), can be seen not far from the famous Sailor Senshis.
Since last year's news and announcements of a new Sailor Moon anime set for Summer of 2013, there hasn't been further news about the said project. Will the Tokyo ViVi issue hold answers to Sailor Moon fans who have been on their toes waiting for news about the latest series?
Just a little bit of spoiler for all you Sailor Moon fans out there, if you think that the other Sailor Scouts are forgotten, that's where you are wrong. The other Senshis are also illustrated along the issue's Table of Contents as well as the questionnaire. With Naoko Takeuchi's (武内 直子) original art strewn all over the magazine, it will definitely be an eye candy for old and new fans alike. Don't forget to grab your copy of this special edition Tokyo ViVi!