Sailor Moon In The News: A Musical, An AKIBA Showroom Feature And A Special Make-Up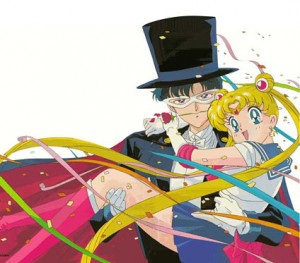 Sailor Moon (美少女戦士セーラームーン) is already celebrating its 20th anniversary in the anime and manga scene but our beloved twin-tailed magical girl (魔法少女) never grows a day old and even until now is still popular, even to those who are not into anime. Asgard Anime puts Sailor Moon in this edition of In the News with three special news that can send fans to the moon and back with excitement!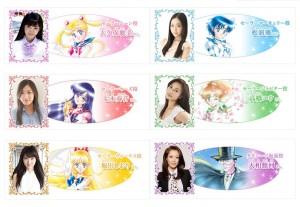 Sailor Moon Musicals (セーラームーン・ミュージカル) or SailorMyu (セラミュー) have always been celebrated by fans since the first stage came out in 1993. Seeing the Sailor Soldiers (セーラー戦士) in the flesh on stage while singing songs was enough to mesmerize fans on their seats. 2013 is the year of Sailor Moon as a new Sailor Moon Musical is set for September! Tickets will be out in July for a price of 6,800 JPY (67.94 USD). Readers of Nakayoshi Magazine are lucky as they were able to avail of reservations for tickets last Monday until Saturday. The 2013 Sailor Moon Musical will begin on September 13 until September 23. Cast members are listed as follows:
Satomi Okubo as Sailor Moon (セーラームーン)
Miyabi Matsura as Sailor Mercury (セーラーマーキュリー)
Kanon Nanaki as Sailor Mars (セーラーマーズ)
Yu Takahashi as Sailor Jupiter (セーラージュピター)
Shiori Sakata as Sailor Venus (セーラーヴィーナス)
Yuga Yamato as Tuxedo Mask (タキシード仮面)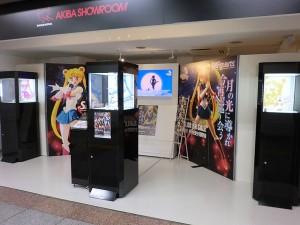 Sailor Moon took over Tamashii Nations AKIBA Showroom last May 2013 as a special part of the exhibit featured her lovely S.H. Figuarts figure. Three figures of the Sailor Moon figuarts were enclosed in glass and were posed in her three classic poses with one of them featuring a tiny figure of Luna (ルナ). The commercial for the S.H. Figuarts was shown at the back of the middle figure, in between two promotional posters. Check out Tamashii Nations AKIBA Showroom website for more information as well as photos.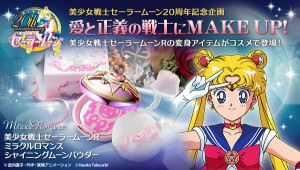 Moon Crystal Power Make-up (ムーン・クリスタル・パワー・メイク・アップ)! Now you can say this command (and hopefully transform into Sailor Moon) with the latest Bandai Creer Beaute offering! Pre-orders are already accepted for this Sailor Moon-inspired make-up, aptly named the Miracle Romance Shining Moon Powder. The Miracle Romance Shining Moon Powder is the pioneer item of the Miracle Romance make-up line brought to us by Bandai and is priced at 3,980 JPY (39.92 USD). If you're a die hard Sailor Moon fan, you can easily guess that the powder's casing is inspired by Sailor Moon's transformation brooch used in Sailor Moon R. The Miracle Romance Shining Moon Powder will be displayed for the very first time during the International Tokyo Toy Show on June 15 and 16 at the Tokyo Big Sight. Visit Premium Bandai's official website for more information.