Sailor Moon Goodies In The News: Pendants, Shirts And Another Sailor Soldier Awakened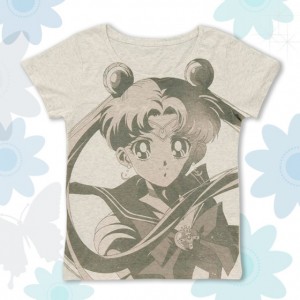 Bandai (株式会社バンダイ) sure knows how to tickle every Sailor Moon (美少女戦士セーラームーン) fan's fancy with their latest Sailor Moon offerings. Asgard Anime gives you Sailor Moon Goodies In the News and this will definitely give another reason for us Moonies to either work and earn twice as hard or introduce our piggy banks with the thing called a mallet.
Premium Bandai, Bandai's official online store, is offering a mountain of Sailor Moon merchandise already and one of them is something every Moonie should have. On July 17, 2013, Premium Bandai has released not one but two (yes, you heard us right! two!) Sailor Moon merchandise up for pre-orders. The first item is a set of pendants based on Sailor Moon's (セーラームーン) transformation brooches and Sailor Moon face shirts that you don't want to miss out on.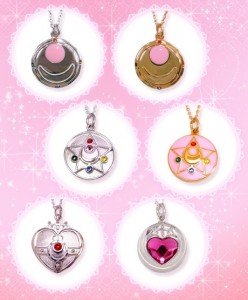 As mentioned previously, the pendants are based on the transformation brooches Sailor Moon has used. The pendants available have been seen and used by Sailor Moon from Bishoujo Senshi Sailor Moon to Sailor Moon S (美少女戦士セーラームーン S ) with an exception of Sailor Chibi Moon's (セーラーちびムーン) Prism Heart Compact. The pendants are made out of silver and are priced at a whopping 12,600 JPY (125.94 USD) each. The face shirts on the other hand have three designs, all of them bearing Sailor Moon's torso. The shirts are priced at 4,988 JPY (49.85 USD) and come in three colors: sherbet pink, gray and white.
Grab your shirts and/or pendants now at the Premium Bandai website!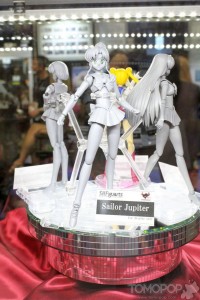 Sailor Jupiter (セーラージュピター) may be the last of the inner senshi to be awakened but she's the fourth addition to the Bandai Sailor Moon S.H Figuarts series! Makoto Kino's (木野まこと) Sailor form prototype first made her appearance on preview night at the SDCC and will be officially released on the Bandai Tamashii Nations Booth this coming weekend at the same area. Now, which Sailor Moon item are you ready to spend on?