Sailor Moon Crystal Trailer With English Subtitles Released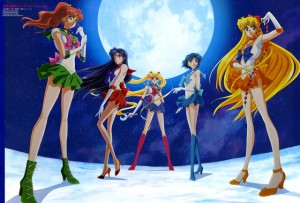 We are just counting down the days until the world premier of Sailor Moon Crystal (美少女戦士セーラームーンクリスタル) and while the Japanese trailer has been out earlier, a trailer complete with English subtitles for non-Japanese speakers has already been released.
The subtitled trailer has been released by none other than Viz Media on June 19, 2014 on their official Youtube channel. Instead of continuing the story line of the last Sailor Moon season, Sailor Moon Sailor Stars (美少女戦士セーラームーン セーラースターズ), Sailor Moon Crystal is a retelling of the series as how the series is told in the manga. Clumsy, crybaby Usagi Tsukino (月野 うさぎ) becomes more than what meets the eye when she rescued a black cat named bearing a crescent shaped mark named Luna (ルナ). Luna presents Usagi with a magical brooch that enables her to transform into the legendary Sailor Suited Soldier, Sailor Moon (セーラームーン). Usagi must then gather the four other Sailor Soldiers (セーラー戦士), get hold of the Silver Crystal (幻の銀水晶) and protect the world against Queen Beryl (クイン・ベリル).
Moonies, prepare your bodies! Watch the trailer below and notice goosebumps break out on your flesh! Sailor Moon Crystal will be released on July 5, 2014. Watch it on the same schedule as Japan at Crunchyroll, Hulu and Neon Alley.