Sailor Moon Crystal Producers Announce Special Theme Facts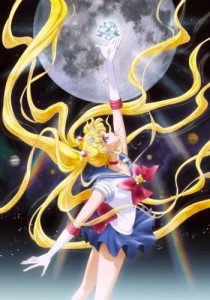 You're a die hard, Moonie you say? If you've combed through each episode of Sailor Moon Crystal (美少女戦士セーラームーン  クリスタル) and found yourself singing to the themes of the latest addition to the Sailor Moon anime franchise, here's a little something for you. The ending theme of Sailor Moon Crystal, entitled as Gekko (月虹) which means Moon Rainbow in English, is credited officially to a person named Shirobara Sumire (白薔薇). Until this goldmine of information came up last Saturday courtesy of the producers of Sailor Moon Crystal. Can you guess who she turned out to be?
That's right ladies and gentlemen, Shirobara Sumire is none other than the creator of the legendary Sailor Moon series, Naoko Takeuchi (武内 直子), herself! Shirobara Sumire is merely Takechi's pen name. Gekko is a special collaboration between Takeuchi and Akiko Kosaka (小坂 明子). Kosaka, who is a musical composer, has worked together with Takeuchi on several songs in the previous Sailor Moon series including Tuxedo Mirage (タキシード・ミラージュ), Moon Revenge (Moon Revenge) and Sailor Team no Theme (セーラーチームのテーマ) and the dream team is back to give us the magical Sailor Moon Crystal ending theme! Want another Sailor Moon Crystal theme fun fact? Moon Pride (ムーン プライド) was originally composed by Revo from Linked Horizon/Sound Horizon who made the Shingeki no Kyojin (進撃の巨人) opening themes a massive hit.
Dying to hear Gekko again and again and again? Don't go anywhere! Scroll down and hit play on the video shared below!
http://youtu.be/Cb-D9U0YRh8