Sailor Moon 20th Anniversary Celebrates With A Talk Event In Tokyo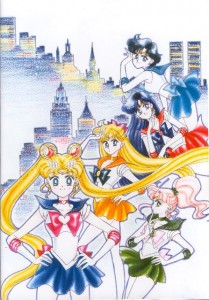 "I will punish you in the name of the Moon!"
To all the little girls (and maybe all of the little boys too) that grew up in the 90's, Pretty Soldier Sailor Moon (美少女戦士セーラームーン) seems only like it was released yesterday but the huge manga/anime franchise will be celebrating its 20th anniversary next month!
To celebrate this event, nightclub Nicofarre will be hosting a very special and commemorative talk event with the voice actors of the anime version of Sailor Moon. Mitsuishi Kotono (三石 琴乃), who shot to instant anime stardom for lending her voice to Sailor Moon/Usagi Tsukino, will be attending the talk event. Of course, Sailor Moon wouldn't be complete without Tuxedo Mask/Mamoru Chiba. Furuya Toro (古谷徹), the voice actor of Sailor Moon's love interest, will also be attending the said event.
Japanese musical girl group Momoiro Clover Z (ももいろクローバーZ) will also appear in the talk event, together with Kodansha manga editor Fumio Osano (小佐野文雄). Fumio Osano worked together with Sailor Moon creator Naoko Takeuchi (武内直子) to come up with the unfogettable manga version.
The 20th anniversary talk event will be on July 6, 2012 at 7:30 PM (JST). Fans who would like to witness the talk event can head on down to Roppongi, Tokyo where Nicofarre is located. The talk event will be also be broadcasted live through Nico Nico Namahousou. Die hard Sailor Moon fans should never miss this event! Mark down your calendars and head on down to Nicofarre or the Nico Nico Namahousou website to view this once-in-a-lifetime event!