Rurouni Kenshin Stars Go Mangaka In Manga-Making Flick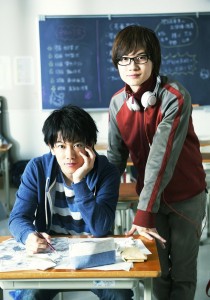 Look at what we have here! Bakuman (バクマン。) is getting a live action take scheduled for 2015 and it features not one but two of the Rurouni Kenshin (るろうに剣心 -明治剣客浪漫譚-) live-action stars! Takeru Satoh (佐藤 健) who played Kenshin Himura (緋村 剣心) and Ryunosuke Kamiki (神木 隆之介) who filled in the shoes for Sojiro Seta (瀬田 宗次郎), trade their swords for pens as Bakuman's Moritaka Mashiro (真城 最高) and Akito Takagi (高木 秋人) respectively.
What began as a trending topic in Twitter about a live-action take on Bakuman being filmed in Hachioji, Tokyo, Japan soon became official news. Hitoshi One (大根仁), who is known for directing the 2010 television drama Moteki (モテキ), will be directing the live-action movie of Bakuman.
Bakuman is the second offering by the team of Tsugumi Ohba (大場 つぐみ) and Takeshi Obata (小畑 健), with the first being Death Note (デスノート). Bakuman revolves around 9th graders, Moritaka Mashiro and Akito Takagi, who dream of becoming mangakas (漫画家). Bakuman was first published in August 11, 2008 on Weekly Shonen Jump (週刊少年ジャンプ) and soon got an anime adaptation on October 2, 2010. Another fun factor for Bakuman is that the series also has characters that resemble real life manga artists such as Eji Nizuma (新妻 エイジ) who is based on Eiichiro Oda (尾田 栄一郎).
More news will be soon on your way so stay tuned!