Rurouni Kenshin Star Appears In A Gum Commercial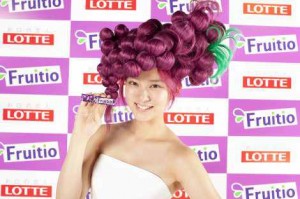 Emi Takei (武井 咲), who was cast as Kaoru Kamiya (神谷 薫) for the live action take on Rurouni Kenshin, also appears in the latest Lotte bubblegum commercial!
Takei, 18, has revealed her unique, grape-inspired hairstyle which she will be appearing in in the latest Lotte Fruitio Gum.
According to reports, the wig took nine (9) days to be styled and prepared. Adding to that the hour and a half time it took to be worn by the actress. But it was all worth it as the gushing Takei speaks of her hairdo "It's such a beautiful color, so I think it's wonderful."
The plot of the commercial is simple: Takei thinks so much of fruits that when she pops in Lotte Fruitio in her mouth, her hair literally turns into a bunch of grapes! Although Takei thinks the concept is adorable, she also admits to having difficulties with her grape-do. "Since it was so wide, I bumped into the camera equipment and stuff."
Takei, whose thoughts are solely on fuit on the commercial, had something else in her mind while on the set. "I want to be pretty, so I've been thinking about what I should do. I've been thinking of eating tofu instead of rice, taking the stairs as much as possible, and things of that nature." The young actress reveals of her turn for health and beauty.
Takei's Lotte Fruit Girl Commercial will be aired in Japan nationwide on June 11, 2012. We'll be seeing more of the lovely Ms. Emi Takei in the Rurouni Kenshin live action film due on August 25!