Shonen Jump Announces Rurouni Kenshin Live Action Movie Trilogy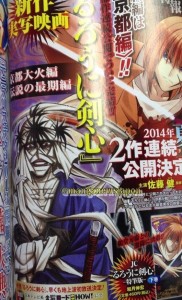 The live action take on Nobohiru Watsuki's (和月 伸宏) Rurouni Kenshin (るろうに剣心) was a huge success and it passed with flying colors in the eyes of the avid fans of the series who are the best critics the RK live action team could ever ask for. If you loved the live action movie, here's good news for you: As reported by MangaNewsJapon, Shonen Jump has announced that the live action series will be a trilogy and the second movie will be adapted next summer!
The first live action movie stars Kamen Rider Den-O's (仮面ライダー電王) Takeru Sato (佐藤 健) who took on the lead role as Kenshin Himura (緋村 剣心) with Emi Takei (武井 咲) filling in the shoes of Kaoru Kamiya (神谷 薫). The movie was based on the first season of the series where the Kenshin-gumi first met each other and together, they faced off against opium lord Takeda Kanryu (武田 観柳) and Udo Jin-E (鵜堂 刃衛) who were portrayed by Teruyuki Kagawa (香川 照之) and Koji Kikkawa (吉川 晃司) respectively.
The next Rurouni Kenshin movie will be focused on the second season of the series called the Kyoto Arc. The Kyoto Arc is perhaps the most celebrated RK storyline which featured Kenshin's deadliest opponent, Shishio Makoto (志々雄 真実). The Kyoto Arc was recently remade into a separate, two episode OVA entitled Rurouni Kenshin: Shin Kyoto-Hen (るろうに剣心―明治剣客浪満譚― 新京都編) where the story is told through Makimachi Misao's eyes (巻町 操).
Who will take up the Mugenjin (無限刃) and become Shishio Makoto? Stay tuned for more RK live action news!