Rurouni Kenshin – Cinema Version – Manga To Be Launched In Jump Square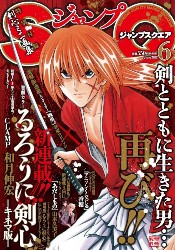 On December 2011, an announcement was made that Rurouni Kenshin will appear in mangas once again in May 2012. May has already arrived and the red-haired samurai has returned to Jump Square, along with other great manga titles Blue Exorcist, D-Gray Man and Claymore.
The latest Rurouni Kenshin manga is, however, not a continuation of the original manga. Aptly named Rurouni Kenshin – Cinema Version –, the latest Rurouni Kenshin manga is rather a retelling of the live-action version movie starred by Takeru Satou. Old fans of the series will be glad to see a new take on the manga and will undoubtedly see a lot of faces that they have come to love or hate.
The Cinema Version manga's art and writing are both handled by Watsuki Nobohiru, the original creator of the series. Watsuki, who will be celebrating his 42nd birthday on May 26, will appear in an interview in the latest Jump Square issue where he talks about his manga as well as the movie. To the delight of fans, Jump Square will also include colored illustrations as well as freebies of exclusive hand towels for thousands of fans.
Rurouni Kenshin – Cinema Version -, being a remake of the original manga, begins with Kenshin Himura's meeting with Kaoru Kamiya and the adventures that followed. Shounen Jump will serialize the continuation of the Cinema Version come August. The sequel, entitled "Rurouni Kenshin -Meiji Kenkaku Romantan- Episode Zero", shows why Kenshin has decided to stay at the Kamiya Dojo.
Also on this month of May, Rurouni Kenshin apps, as well as a PSP game, will be released so fans will be kept busy before the live action of the anime will be released in theaters.