Rurouni Kenshin Celebrates Their 15th Anniversary With Shin Kyoto Hen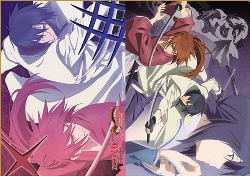 Rurouni Kenshin celebrates its 15th anniversary in the field of anime and manga by releasing a remake of the anime's biggest arc in a two part OVA, the Shin Kyoto Hen.
Released on December 17, 2011, the Shin Kyoto Hen focuses on the Kyoto arc of the series but is told from the point of view of Misao Makimachi. Produced by Studio DEEN and directed by Furuhashi Kazahiro, Shin Kyoto Hen resembles a reunion for everyone. The voice actors for this OVA are nearly the same except for Saito Hajime. Saito Hajime's original voice actor, Hirotoka Suzuki, passed away due to lung cancer in the year 2006 and is replaced by Ken Narita, a known voice actor who lent his voice talent to Ryuken Ishida from Bleach and Sesshomaru from Inu Yasha.
While the CD, DVD and BluRay releases of Shin Kyoto Hen are scheduled on March 2012, fans of Rurouni Kenshin will not be disappointed in the long wait. In the official Rurouni Kenshin website, fans can purchase original merchandise to add up to their collections such as pens, folding fans, plush dolls, table calendars and scale figures. That and CD/DVD copies of the original series as well as the OVAs.
Fans should definitely watch the Shin Kyoto Hen. For those who have no idea how the Shin Kyoto Hen is going to look, check out the official trailer below:
http://youtu.be/jLFN78LHCiY