Real Rose Named After Popular Shoujo Manga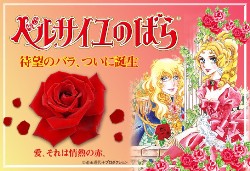 Keisei Rose Nurseries, located in Chiba, Japan, has produced a new variety of rose named "The Rose of Versailles" or "La Rose de Versailles", after a popular shoujo manga that originated in the 1970's.
The Rose of Versailles was created by Riyoko Ikeda. The manga ran from 1972-1973 and has spawned a number adaptations including an anime series, several movies and even musicals.
The story is set in France prior to and during the French Revolution. Having no sons of his own, General Jarjayes trains and raises his youngest daughter to live and fight like a man in order for her to take his place when his time for retirement comes. At the tender age of fourteen, the brilliant and talented Oscar Francois de Jarjayes has been given the task to protect Marie Antoinette, the Dauphine of France.
Although the manga shows elements of present to that of Yuri, a genre involving the love between two women, The Rose of Versailles has never failed to become successful and still is still popular worldwide, most especially in Italy.
The Rose of Versailles flower celebrates the 40th anniversary of the highly popular manga and will be shown at the International Roses & Gardening Show 2012 in Saitama, Japan for the first time on May 12-20. On March 16, 2012, an advance order was placed for 100 plants and in only two, short days, all the roses were sold out. The roses were sold for 3,300 Yen, roughly about 39.85 USD, but worth every penny I'd say.