Ray's Nagi No Asakura Insert Song Used For Final Episode Featured In Singer's Newest Album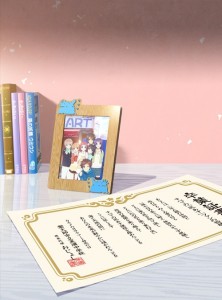 It has been weeks since Nagi No Asakura (凪のあすから) has aired its final episode but fans still can't get enough of the Nagi-Asu fever! Here to help you relive the series is Ray's second album which includes the insert song, lull ~Earth color of a Calm~ (「lull~そして僕らは~」).
The official Nagi no Asakura website posted the titles of the two insert songs used in the final episode, one being Ray's lull while the other is Nagi Yanagi's (やなぎ なぎ) mnemonic. Oh, did we mention that the site also shared an image of a framed photo of the characters with a graduation certificate for the fans? Ray's lull ~Earth color of a Calm~ will be included in her second album, Milky Ray, as a bonus track. Milky Ray has a total of 13 songs including the said insert song. lull is actually a new recording of the first Nagi no Asakura opening theme, lull ~Soshite Bokuru wa~ (lull ~そして僕らは~)) that boasts a new arrangement. Not only will the album feature lull, but also the original arrangement of lull and the second opening theme entitled ebb and flow.
Ray's second album will be out on June 4, 2014 so don't forget to grab a copy on its release date! Check out lull's quick preview below.