Proud Otaku AKB48 Member Teams Up With Ultraman Monster Once Again For T-Shirt Line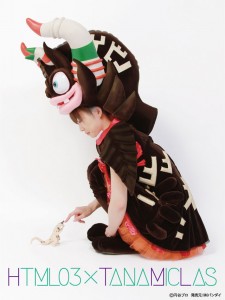 Now, just how cute can this possibly get? AKB48 member, Miku Tanabe (田名部生来) is back with Ultraman (ウルトラマン) monster Miclas (ミクラス), to give another edge to Japanese fashion! TANAMICLAS, as the Tanabe-Miclas pair is called, first came out last year and now they're at it again thanks to their partnership with HTML ZERO3. HTML ZERO3, which is an acronym for Hobby Tasteful Merchandise Laboratory 03 (with O3 as a telephone code), is a Japanese clothing brand that caters to men's fashion. The HTML03 x TANAMICLAS collaboration shirts will feature Ultraman-inspired t-shirts that looks seriously awesome.
There are three shirt designs to choose from and are named appropriately named according to their designs!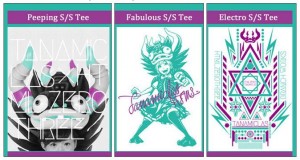 The Peeping S/S Tee features Tanabe's eyes with her signature Miclas headdress on while the Fabulous S/S Tee shows a manga version of Tanabe (who still has her Miclas headdress on). Last but not the least is the Electro S/S Tee which sports symbols all over it made to represent electricity. Do you notice the Micla head on the top? The shirts come in two different color choices with white and gray for the Peeping S/S Tee and black and white for both the Fabulous S/S Tee and Electro S/S Tee. The shirts cost 3,800 JPY (37.23 USD) each. Know which shirt to get? Then head on down to your favorite shop or you can visit Rakuten to grab one this minute!