Priroll Service Kicks Off With Bleach Roll Cake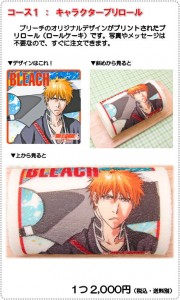 Whether you're blowing out your first paycheck, having an anniversary with your better half or even celebrating a beloved anime/manga character's birthday, parties are hardly complete without cakes. Eitsu, a Japanese company based in Tokyo, Japan, is now accepteing orders for their special Priroll Service. By now, you probably might be wondering what a Priroll Service is and here's all you need to know.
A Priroll service is a popular service by Eitsu which allows customers to personalize their cake rolls. The prices differ on how the customer wants the cake to be design and it goes as follows:
If you only want the anime character only, it is priced at 2,000 JPY (19.99 USD)

If you want the character and a personal message, it is priced at 3,500 JPY (35.00 USD)
If you want the character with a personal message and a photo of the celebrant, it is priced at 4,500 JPY (44.97 USD)
The cake rolls come in different designs but Eitsu chose to kick start their new Priroll service with Tite Kubo's (久保 帯人) hit series, Bleach (ブリーチ). Bleach fans will simply love this fully detailed Ichigo Kurosaki (黒崎 一護) cake roll. While Bleach is the first off the oven, Eitsu also offers the following characters: Naruto (—ナルト—), Magic Angel Creamy Mami (魔法の天使クリィミーマミ), Pretty Rhythm: Rainbow Live (プリティーリズム・レインボーライブ), Jewelpet (ジュエルペッ) and even Sanrio (株式会社サンリオ) favorites such as Hello Kitty (ハローキティ) and My Melody (マイメロデ).
For more information, visit Eitsu's Priroll website.