Pikachu Meets Up With Ronald McDonald To Promote Pokemon Happy Set Toys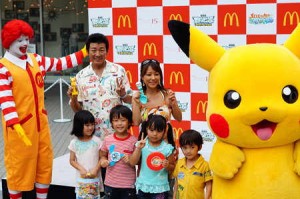 Pokemon (ポケモン) has been featured for quite a long time already in the McDonald's Happy Meal toy line and this time, rolly, polly Pikachu met up with the main man of McDonald's who, coincidentally, also shares the same dominant shade of yellow and red as the famous little electric mouse.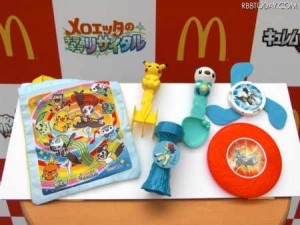 Ronald McDonald, Pikachu, and Oshawott, along with married Japanese talent couple Toshikazu Fukawa and Kaoru Tsuchiya, promoted the Pokemon Happy Set in an event in Tokyo, Japan. The Pokemon Happy Set toys are perfectly designed for outdoor play as the theme celebrates summer. "These toys are all essential for playing outdoors! Perfect for the season! And they're so cute too!" Fukawa said. The actor highly appreciated the Pokemon rafter and the Pikachu rake.
The Pokemon Happy Set promotional event was held in Palette Plaza in Odaiba with a small sandy area meant to represent a beach. Children came to visit the event and had the chance to get their photos taken with Ronald McDonald, The Pokemon mascots as well as the talents.
McDonald's is one of the world's biggest fast food chain franchise that began in 1940 at San Bernardino, California by brothers Richard and Maurice McDonald. Ronald McDonald, the restaurant's mascot known for his red, white and yellow clothing and perpetually happy smile, is the second most recognize face next to Santa Claus according to a survey. The McDonald's Happy Meal was first introduced in June 1979 and was marketed for the children. The Happy Meal, or Happy Set as it is called in Japan, includes a toy with a regular meal.
With the Happy Set Pokemon toys out, get ready to catch 'em all! The Pokemon Happy Set toys are available in McDonald's chains in Japan.