Piapro Announces Coca-Cola Inspired Hatsune Miku Drawing Contest Winners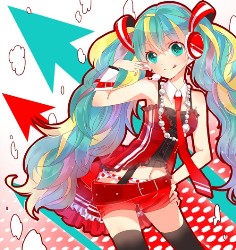 From Toyota Corolla to Google Chrome and now the world's biggest soft drink label, Hatsune Miku just keeps raking in different promoters.
The contest started on February 23 and ended on March 12 with the mechanics that Hatsune Miku be clad in the colors associated with Coca-Cola without having to display the company label.
Coca-Cola, with its signature swirly white font fronting a red background, was first made by Dr. John Pemberton on May 8, 1886 with his original syrup and a mixture of carbonated water. Today, Coca-Cola is enjoyed worldwide and has gained popularity over the years with their unique brand of advertising.
Announced on April 5, 2012 in the Crypton Future Media's website, Piapro, the first prize winner belonged to Hina whose winning entry was entitled "Swuya Swuya" which showed Miku in a frilly red and black corset with white stripes. Her red and white polka dotted underwear stuck out over a pair very short, red pants.
Four Second prize winners were also chosen: Mikuu ga Ippai, Red-Style, Coca Cola Style and Maximum which were submitted by Chikuwa, La-Na, Natsu and U7 respectively.
Hina's rendition of Hatsune Miku will be used by Coca-Cola in their campaign posters, as well as other materials, for Sega's amusement arcades this coming June.
The winners all walk away with a gift certificate that gives them a year's supply of Coca-Cola. Head on down to Piapro's official website and check out the other submitted Coca-Cola inspired Miku illustration.
Now, which one is your favorite?