Panty And Stocking With Garterbelt: English Cast Announced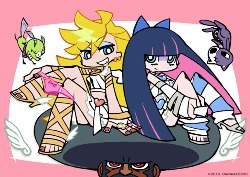 In the latest Anime Central convention, American production company FUNimation has announced that an English version of the Japanese anime Panty and Stocking with Garterbelt will be released. During their panel, two episodes were shown which were already dubbed in English and the voice actors were revealed.
Panty and Stocking with Garterbelt tells the story of angels Panty and Stocking Anarchy who were kicked out of Heaven for their not-so-angelic behaviour. The sisters were sent to Daten City, a place situated right smack in the middle of Heaven and Hell, to destroy monsters who ravage the city called Ghosts. Getting rid of Ghosts would earn them Heaven Coins which they need in order for them to return to Heaven. Reverend Gaterbelt, along with the zipper-dog named Chuck, watch over these mischievous angels. The Anarchy sisters have the power to transform their underwear into weapons they use against Ghosts.
The Panty and Stocking with Garterbelt manga is an ongoing series by manga author Tagro. Published by Kadokawa Shoten, Panty and Stocking first made their appearance on August 4, 2010. Almost three months after the release of the manga, the series spawned an anime version which had a total of 13 episodes and a special. The art style of Panty and Stocking would strongly remind both readers and viewers of an adult version of Powerpuff Girls Z.
The English voice actors of the said anime are listed below as follows:
Jaime Marchi as Panty
Monica Rial as Stocking
Christopher R. Sabat as Garterbelt
Ian Sinclair as Chuck
Joel McDonald as Brief
Cherami Leigh as Kneesocks
Christopher Bevins as Fastener
Chris Ayres as Corset
Collen Clinkenbeard, John Burgmeier, Leah Clark and Jared Hedges work behind the scenes as the ADR Director, head writer and script writers respectively. Jaime Marchi, who voices Panty, is also part of the the script writing team.
The Limited Edition DVD of Panty and Stocking with Garterbelt will be released on July 10, 2012.