Ozine Fest 2012 Scheduled On April 13-15, 2012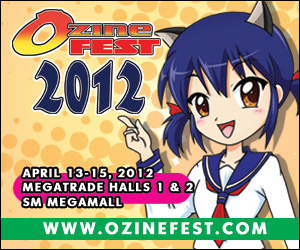 This coming Friday marks the beginning of Ozine Fest 2012. This three-day event will be held on the fifth floor of the SM Megamall, Megatrade Halls from 10:00 AM to 9:00 PM.
The Ozine Festival is an anime convention organized by a Filipino anime magazine called "Otakuzine Anime Magazine" and is published by PSICOM Publishing, Inc. The first Ozine Fest was held in Robinsons Galleria on December 16, 2005. This became an annual anime convention that was always looked forward to by anime and manga fans.
This year's Ozine fest is set to have a variety of activities in store for the participants. A Matsuri (Japanese for "Festival") area is included in the Ozine Fest where visitors can enjoy scooping gold fish, throwing darts on balloons and so much more. The Gakuensai is for those who enjoy school festival themes complete with booths such as Horror booths, Fortune telling booths and Souvenir shops to name a few. And lets not forget the maid cafes that everyone is crazy about.
A League of Legends cosplay competition will be held on the second day of the event. Registration for the said contest will start from 10:00 AM to 3:00 PM and while it is open to all ages, cosplayers below 12 year old should be accompanied by an adult. The first prize winner goes home with PHP5000 (about 116 USD).
As a part of the Ozine Tradition, Ozine will be releasing limited edition Otakuzine Anime Magazines and for only PHP65 (about 1.50 USD) instead of its usual cover price of PHP95 (about 2 USD). Tickets are available for only PHP100 (about 2.30 USD) at the event entrance which includes a souvenir program and other freebies.