Cosplay Tournament Of Champions 5 Takes The Philippines By Storm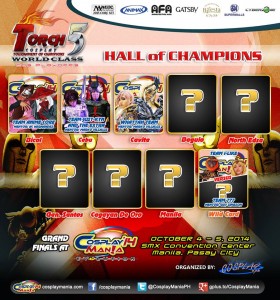 FILIPINO COSPLAYERS, ARE YOU READY?!
You can bet on it that we at Asgard Anime just can't keep ourselves together over the highly anticipated cosplay event of the year! With the Cosplay Tournament of Champions 5 World Class well under way, cosplay teams from hailing from Luzon, Visayas and Mindanao are slowly but surely making their way to the top with the finals to be held at Cosplay Mania '14. TorCH 5 competitions in Bicol, Cebu and Cavite have already been completed and the following teams have represented these major areas respectively: Team Anime Core, Team Just-Kyn And The Extra and Whattah Team. Cebu's Team I-Like has made it to the Wildcard Slot Champion so chalk one up for the Visayas region!
Going solo? No problem! The Cyberzone Cosplay Grand Prix is for solo cosplay competitors and with CCGP already in it's Third Heat, the competition is getting bigger and better! A new set of judging criteria has already been released so things will be even more challenging. Lyalin Garbin (as Barbarian) from Cavite, Richard Roles (as Bumblebee from Transformers) from Cebu and Ray Joseph Lasap (as Megatron from Transformers) from Bicol have already braved the heat! Who will be next? Will it be you?
As Cosplay.PH would put it, the Next Stage for TorCH 5 will be in the following areas and dates: North Edsa (August 23), General Santos (September 6), Cagayan de Oro (September 21) and Manila (September 27). TorCH 5 Baguio is on today only at SM City Baguio! Head on down to the official Cosplay Tournament of Champions page on Facebook so you can be kept up to date on the next TorCH. Join in on the fun and your team just might be the next Champion!
Read up on the TorCH guidelines here and Cyberzone Grand Prix Third Heat guidelines here. Good luck and have fun, cosplayers!
Image credits go to Cosplay.PH.