Otaku House Introduces Kawa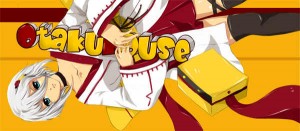 "Hello everybody. I am Kawa, the tenchou of Otaku House. Not 'kawaii'; Kawa."
On May 17, 2012, Otaku House introduced Kawa in their Announcements and Promotions. Preceding the short introduction shown above is an image of a girl with short, white hair and clad in the modern take on the Japanese kimono with a golden box trailing on red cloth.
Kawa, as she is called, is not the Singapore-based online otaku shop's mascot as what the page mentions. The Japanese word tenchou, as is applied in the article, means manager. The word tenchou is a homonym which could mean several things including zenith and even modulation. The lone comment found under the article confirms the meaning of the word used saying "My boss… well yes because I write for OH… anyway. Tenchou-sama! Kaze wants a promotion *giggles*."
Kawa first appeared as a post on the official Otaku House Twitter account and was soon recommended to have her own blog. A short biography is also included in Kawa's first blog. Kawa, whose full name is Tenno Kawa (天のかわ), is a female Canopian. She lived in a distant place called "Star of Canopus" with Bento-kun, her bestfriend who takes on the shape of a Japanese lunch box. They arrived in Otaku House through the Gate of Canopus and are trying to get back home. Kawa, perhaps like many other women, disclosed the information regarding her age; on her biography, the age section was marked with the word "secret".
Follow Otake House on Twitter and you can ask Kawa questions using the hash tag #KawaTheOtakuHouseTenchou. Check out the Otaku House website regularly for more Kawa updates.