Otaku House Announces Hatsune Miku Nendoroid Contest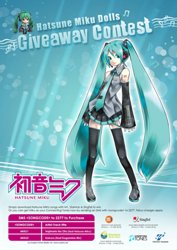 In honor of the Miku Day celebration on March 8 and 9, 2012, Singapore's biggest anime/cosplay shop, Otaku House, joins in on the celebration by throwing a contest. On February 23, 2012, Otaku House proudly announced that they would be giving away two original Hatsune Miku dolls.
The instruction is very simple: all you have to do is download Hatsune Miku tracks on your phone from either of the three telecommunications network from Singapore and it would give you a chance to win one of two Hatsune Miku Nendoroids straight from Japan.
Nendoroids, also known as "Nendos", are small, poseable plastic dolls with interchangeable parts and facial features. These nendos are designed in "chibi" so they are irresistibly cute.
The three networks that contestants can choose are Singtel, Starhub and M1. Release details for both Singtel and Starhub are from February 17 to March 16, 2012. The release details for M1 will start on March 1 to March 16, 2012.
Unfortunately, this contest is only open to residents in Singapore. "Aaw, [it's] just for Singapore," one dismayed Hatsune Miku fan sighed. "I want that but I'm from Indonesia." Otaku House, however, gave a positive response. "Come look for if you're ever in town."
Hatsune Miku fans should drop by Otaku House located in Plaza Singapura or read their announcement on their official website for further details on the contest.