One Piece Pirate Ship At Nagasaki Theme Park Hosts Weddings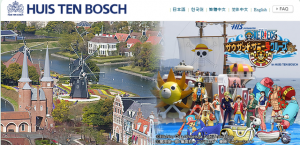 Couples looking for a very unique way of holding their wedding vows should try saying "I do" in the Thousand Sunny pirate ship!
In the 668th chapter of the One Piece manga, an annoucement was made saying that Huis Ten Bosch, The World's Finest Flower Resort, will be hosting weddings at the larger-than-life replica of the famous Straw Hat crew's pirate ship. Huis Ten Bosch is located in Nagasaki prefecture, Japan.
One Piece is a shonen manga-turned-anime that was first published in August of 1997. Together with the anime, both versions are still ongoing and is brought to us by none other than Eiichiro Oda. Before his death, Gold Roger, the dreaded King of the Pirates, announced that his greatest treasure called "One Piece" is up for anyone's taking; his announcement started the Great Pirate Era. Monkey D. Luffy, along with his 9 member Straw Hat crew, aspired to succeed the King of the Pirates and look for his treasure.
The Thousand Sunny offers a 20 minute cruise with a 250 people capacity. Adults are charged ¥1,000 ($12.50) while children under 4 years of age are charged ¥600 ($7.50). The Thousand Sunny features the Gaon Cannon, an Aquarium Bar, a souvenir shop, character statues and a display of the Soldier Dog System. And did we mention that the wedding will be hosted by the Straw Hat crew themselves? Imagine Tony Tony Chopper as your ring bearer. How cool is that!
If this post has convinced you to stage your wedding on the Thousand Sunny pirate ship, visit the official Huis Ten Bosch website and make your reservations now!