Official Kite Live-Action Behind-The-Scenes Photo Revealed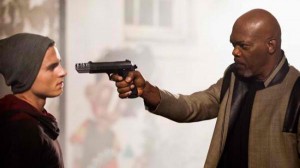 The internet has been abuzz with the on-going filming of the live-action take on Yasuomi Umetsu's (梅津 泰臣) controversial action-packed anime, Kite (A カイト), and after months of waiting, fans finally have a sneak peak of the movie. American actor, Samuel L. Jackson, has been photographed in this scene with fellow Kite actor, Callan McAuliffe. Jackson is tasked to take on the role of Akai, a detective who delivers his own twisted sense of justice. McAuliffe plays Oburi, another assassin trained by Akai.
Just how twisted is Akai? In the original, anime version of Kite, Akai is a detective who took Sawa in after her parents were killed in a gory double murder. Akai forced Sawa, not only to assassinate criminals but also to become his sex slave. In the American live-action take, Akai's name has been replaced with the name Karl Aker.
The live-action take on Kite has a modified storyline compared with the original entry: Sawa, who is portrayed by India Eisley, is drowned in financial problems while a rogue security force takes profit in human trafficking, specifically women. With her policeman father dead in the line of duty, Sawa works with her father's former partner in order for her to seek revenge.
With Samuel L. Jackson playing the main antagonist of the movie, a lot of Kite fans are already hoping for a good outcome of the movie. What do you guys think? More Kite news will be posted here on Asgard Anime so stay tuned!