Genesect, I Choose You! Nintendo Reveals Official Genesect Move List Video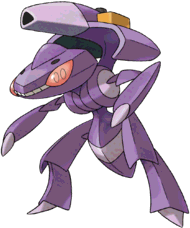 Starting on October 7, 2012, Nintendo will be offering die hard Pokemon (ポケットモンスター) fans a chance to "catch" Genesect (ゲノセクト).
With the release of Pokemon Black Version 2 (ポケットモンスター ブラック 2) and Pokemon White Version 2 (ポケットモンスター ホワイト 2) scheduled on the same date, Nintendo has put Genesect up for grabs for the players who will be getting either (or even both) versions from October 7 to November 12.
Although Genesect was revealed on July 14, 2012, it was first leaked on the August issue of CoroCoro Comics (コロコロ コミック) on July 11, 2012. Nintendo introduced Genesect as a restored 300-million-year-old fossil which was then modified by Team Plasma. Genesect is currently the final Pokemon to appear in the Unova and even the National Pokedex so players should really grab this rare Pokemon.
With both attributes of a bug-type and steel-type Pokemon, speculations of Genesect being partly cyborg has been abound based from the news that Team Plasma has applied modifications to this Pokemon. From the illustration alone, Genesect appears to have a cannon attached to its back. With this cannon, Genesect is the only Pokemon that knows the move Techno Blast. The best thing about Techno Blast is that its drive can be modified. Check out the video below to know how you can tinker with Genesect's cannon. Don't forget to miss out on this awesome Pokemon event!