Nura: Rise Of The Yokai Clan Premieres On Animax Asia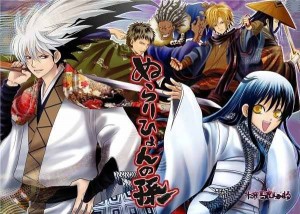 Nura: Rise of the Yokai Clan (ぬらりひょんの孫) is one anime that teaches us that there's more to people than meets the eye.
Meet Nura Rikuo, a normal, everyday, junior high student. Underneath his ordinary, 12-year-old looks however rages Yokai (demon) blood. Rikou transforms into a powerful demon commander called Nurarihyon when night falls and returns to normal when the sun rises. Rikuo resides in a house full of demons who willingly throw themselves at his feet to serve their master, except for some who wish to take his place as the Young Head of their clan. Nurarihyon was known as the Lord of Pandemonium and was deeply feared by humans. However, it was not Rikuo's intention to become one of them. Instead, Rikuo uses his power to help and save humans.
Nura: Rise of the Yokai Clan or Nurarihyon no Mago began as a manga created by Hiroshi Shiibashi. The manga is currently an ongoing series that started out in March of 2008 and currently has 21 volumes. The anime is produced by Studio Deen and is directed by Junji Nishimura.
Nura: Rise of the Yokai Clan premieres on Animax Asia on May 29, 2012. It will be aired from Monday to Friday at 7:30PM (6:30PM JKT). Visit the Animax Asia website and check out the Nura: Rise of the Yokai clan page for cool reads such as the history and folklore that surround the series. There is also an image gallery as well as a short video on the anime that will surely make you wait for the series premiere!