New Tiger & Bunny Cakes Now Available For Orders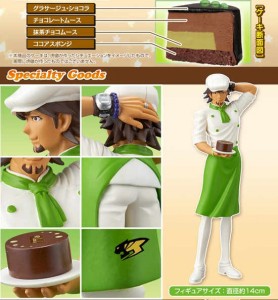 Imagine being served with a special Tiger & Bunny (タイガー&バニー) cakes by the main leads themselves!
Bandai's official online premium goods shop, Bandai Premium, has released the White Day Cake from Barnaby and Valentine Cake from Kotetsu!
The Valentine Cake from Kotetsu is a luscious chocolate mousse cake with a decorated top. Surrounding the chocolate mouse is a luxurious chocolate with a very smooth finish. This cake doesn't go without its own Kotetsu T. Kaburagi (鏑木・T・虎徹) figure all dressed up as a chef.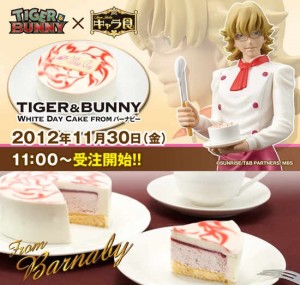 Following the Valentine Cake from Kotetsu is the White Day Cake From Barnaby. The White Day Cake is a cheese mousse decorated with raspberry syrup. Like the Kotetsu cake, the Barnaby Brooks Jr. (バーナビー・ブルックスJr.) White Day Cake comes with a Barnaby figure all decked out in a chef's outfit. Both figures stand at 14 cm and the cakes are 12cm in size.
Kotetsu T. Kaburagi and Barnaby Brooks Jr. are the main characters of the science fiction/superhero anime series, Tiger & Bunny. Veteran hero Kotetsu, also known as Wild Tiger, teams up with Barnaby Brooks Jr., the Bunny.
Each cake costs 3990 JPY each (48.58 USD). The Barnaby Cake will be shipped on March 2013 while the Kotetsu Cake will be shipped on an earlier schedule of February 2013. Head on down to the Bandai Premium website to place your orders now.