Neon Genesis Evangelion Prepares For Valentine's Day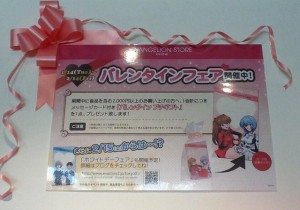 We have officially reached the middle of January and people bitten by the love bug are already preparing for Valentine's Day and that includes Neon Genesis Evangelion (新世紀エヴァンゲリオン)!
Evangelion stores have already started introducing Valentine's Day themed goodies such as tote bag printed with pink and white Angel (使徒) heads, hearts and crosses that resemble sparkles as seen below. The tote bag comes with pink Strawberry flavored chocolates.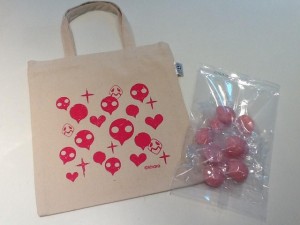 Petite Valentine's gifts are currently offered over at the Harajuku branch of the Evangelion stores while the period lasts and are only available for customers who have accumulated a purchase worth 2,000 JPY (19.11 USD).
The Evangelion Valentine's Day promo began on January 14 and will end on February 14. This month long celebration of the love month will be followed by a planned White Day celebration. So, what Evangelion V-Day present are you planning to get for your Valentine?
Neon Genesis Evangelion is perhaps on of the most controversial yet highly celebrated anime spawned in the 90's. Directed and written by Hideaki Ano (庵野 秀明), Evangelion follows the tale of Shinji Ikari (碇 シンジ) – a withdrawn young boy identified as the Third Child who is recruited by NERV to pilot a humanoid robot called an Evangelion.
Image credits go to the Evangelion Store.