Neon Genesis Evangelion Makes An Otaku Foodie's Dream Come True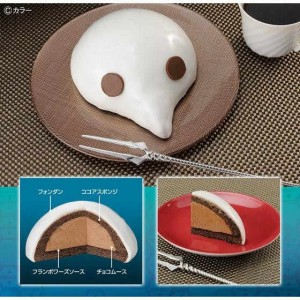 Christmas is just a few months away but that doesn't stop Neon Genesis Evangelion (新世紀エヴァンゲリオン) from joining in on the holiday celebrations.
Neon Genesis Evangelion has been offering Christmas cakes for the past few years and 2012 won't be an excemption. Bandai Premium, the official online store of Bandai, has announced on their website that the Neon Genesis Evangelion Christmas cake is now up for pre-orders. This year's Christmas cake is based on the Third Angel, Sachiel (サキエル). This cake, however, doesn't go alone. It is served with a complementary Asuka Langley Soryu (惣流・アスカ・ラングレー) PVC figure and a fork inspired by the Spear of Longinus (ロンギヌスの槍). The Sachiel Christmas cake is a chocolate mousse covered in white fondant with round chocolates for its eyes. Head on down to Bandai Premium and order up your own Evangelion Christmas cake!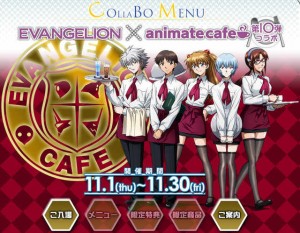 If that hasn't made your mouth water yet, get ready for this. Animate Cafe has collaborated with Neon Genesis Evangelion. Scheduled for the whole month of November, Animate Cafe will be catering Evangelion inspired food, drinks and other items. Be sure to hit Animate Cafe on the first day of November so you can have your share of the Evangelion treats!
Neon Genesis Evangelion's latest movie offering, Evangelion 3.0: You Can (Not) Redo (ヱヴァンゲリヲン新劇場版:Q Quickening) will be released on November 17, 2012.