Nekomonogatari (Black) Gives Fans Special Treat On New Year's Eve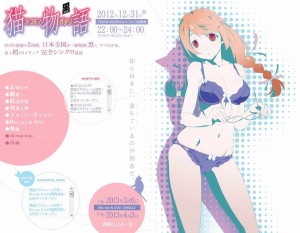 You've heard that right! Nekomonogatari (Black) 猫物語(黒) has earned an Anime adaptation and will be aired on December 31, 2012!
Nekomonogatari (Black) is part of the Bakemonogatari (化物語) series created by Japanese novelist Nisio Isin (西尾 維新) with Taiwanese illustrator, Vofan, providing the art. Not long after the light novels were released, Bakemonogatari had an Anime adaptation. Nekomonogatari (Black) is the sixth book of Isin's Monogatari series. It features the Tsubasa family as its prime story arc.
Nekomonogotari (Black) bridges the story between Nekomonogatari (White) and Bakemonogatari. Akiyuki Shinobo (新房 昭之) takes on the directorial shoes for this series. Hiroshi Kamiya (神谷 浩史) is back to provide Koyomi Araragi's (阿良々木 暦), together with Horie Yui (堀江 由衣), Eri Kitamura (喜多村 英梨) and Yuka Iguchi (井口 裕香) who will also provide the voices for Hanekawa Tsubasa (羽川 翼), Karen Araragi (阿良々木 火憐) and Tsukihi Araragi (阿良々木 月火) respectively.
Nekomonogatari (Black) will have four (4) episodes and will be aired on NicoNico, Tokyo MX and BS 11. The series will be aired in a row from 10:00 PM to 12:00 AM (JST). Talk about a great way to say hello to the New Year!
Check out the promo below and start counting down the days until December 31st!
http://youtu.be/eePl1qrPAt8