NBA Logos Get Redesigned Ala Pokemon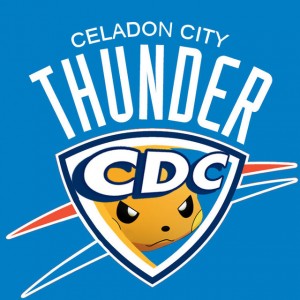 When you were a kid, did you ever relate Pokemon (ポケットモンスター) with the NBA team logos? If you did, your wish has been granted! American artist Micah Coles gave the NBA team logos a quick redesign but this time, the logos stars Pokemon that we all have come to know and love over the years!
The redesigned logos have become an internet sensation. Some logos retained their original states such as the New Orleans Pelicans (now with a Pidgey (ポッポ ) now in its place), Orlando Magic (with a cleverly inserted Magikarp (コイキング) whose crown makes up the logo's "A") and the Dallas Mavericks (which now bears a Rapidash (ギャロップ)). Other logos however have carried regions and cities from Pokemon but retaining the NBA team's logo layout such as the Celadon City Thunder (starring the one and only Pikachu (ピカチュウ) in it) for Oklahoma City Thunder, Saffron Kicks (featuring a Hitmonlee (サワムラー) in action) for New York Knicks and even Kanto Embers (complete with a fully dressed Charmeleon (リザード)) for the Toronto Raptors.
Micah Coles is a talented artist hailing from Central Coast, California. As given in his personal introduction in Tumblr, Coles stands at a height of 5'11" and loves to make people laugh. Proof of which includes his liking for drinking (water) and eating water as well.