Natsume Yujin-Cho Sweets Now Offered In Family Mart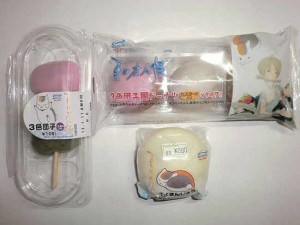 Japanese convenience store chain FamilyMart (ファミリーマート) certainly knows how to tickle the fancy out of anime and manga fans alike! The latest addition to the FamilyMart anime-inspired goodies is Natsume Yujin-Cho (夏目友人帳), otherwise known as Natsume's Book of Friends.
Since January 8, FamilyMart has been offering Manju (饅頭), Dango (団子) in three different colors and even doughnuts. A Manju is one of the most popular sweets in Japan. It is a bun with a filling made out of red bean paste. A Dango, on the other hand, is the Japanese take on the dumpling. It is made from rice flour and is served skewered in a stick and can come in different colors.
Natsume Yujin-Cho first began as a manga series created by Midorikawa Yuki (緑川ゆき). The manga's success eventually spawned four anime series, all of which have a total of 13 episodes. Natsume Yujin-Cho tells the story of Natsume Takashi (夏目 貴志), a young orphan who has the ability to see spirits. On the death of his grandmother, Natsume Reiko (夏目 レイコ), Natsume inherits a book that contains the spirits she had overpowered into servitude.
Did we mention that the Natsume Yujin-Cho food items are available for a limited time only? Head on down to the nearest FamilyMart in your area before they're gone!