Naruto: Road To Ninja Success Celebrated With Official Thank You Art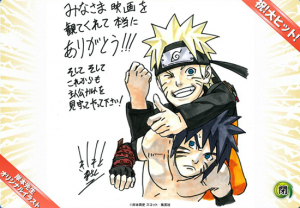 In just a short span of 2 weeks and 3 days, Naruto: Road to Ninja has raked in over 1 billion Japanese Yen (12,763,000 USD) and is already expected to break the record of the previous Naruto movies!
Released on July 28, 2012, Naruto: Road to Ninja is the ninth Naruto film that celebrates the 10th anniversary of the world famous ninja anime franchise. Naruto creator, Masashi Kishimoto (岸本 斉史), was very hands on with this movie – he created Road To Ninja in a whole new light that answers "what if's?" like "What if the Fourth Hokage was still alive?" and apparently, that was a formula for a huge success!
Comparing the earnings of the previous successful Naruto with Road To Ninja, 2004's Naruto the Movie: Clash in the Land of Snow (大活劇! 雪姫忍法帖だってばよ!!) earned 1.37 billion Japanese yen (about 17,357,000 USD). Although Clash in the Land of Snow currently holds the record as the most successful Naruto movie, it might as well give way for Road to Ninja at the rate the ninth movie is going!
Kishimoto, 37, posted an illustration of his characters Naruto and Sasuke on the official Naruto: Road to Ninja website with the message "Thank you very much everyone for watching the film! And please always support our protagonistm Naruto!"
Check out the Naruto: Road to Ninja website to see the awesome drawing for yourself before it's too late!